We have been receiving requests for information and messages of support from organisations and individuals across the globe who share our concerns about the non consensual data sharing and named person aspects of the Children and Young People Bill which is about to be voted through the Scottish Parliament and which we have opposed from the outset.
International correspondents have expressed dismay at "watching Scotland slide into totalitarianism" and some have urged families with children to "get out while you can". One suggested that Braveheart had given way to Graveheart – far too good a soundbite not to share!
Since we have received so many supportive messages and requests for updates, we thought we should post some useful links for interested parties to ponder as the parliamentary process concludes and we prepare for the next stage in proceedings (as it's far from over yet!)
As we have explained:
The Bill  is expected to go through on 19 February, despite some recent hostile media coverage and a better-late-then-never realisation by ordinary families that the Bill will affect every child (including theirs!)  Criticism has largely focused on the named person provisions, while we are most concerned with the routine data gathering and sharing without consent below the established child protection threshold, whereby a stranger (named person) will be mandated by the government's SHANARRI 'wellbeing' indicators to interfere in parenting choices to ensure that every child works towards state dictated outcomes.
Updates can be found on our website:
…and on the GIRFEC petition site:
Reject GIRFEC surveillance and named person for every child in Scotland
Here are some links to recent media coverage (the comments often make very interesting reading):
Top lawyer: SNP's 'state guardian' for kids unlawful
Government accused of interfering in family life
Muddled and dangerous – assigning a state person to every child in Scotlan
Why we must get it right for every child in Scotland
State nanny plan makes good parents fair game
Former church leader: guardian plan is 'a snooper's charter'
Free Church leaders attack child protection Bill
Guardian plan a snoopers charter
Scottish Daily Mail front page: Churches unite to halt SNP attack on the family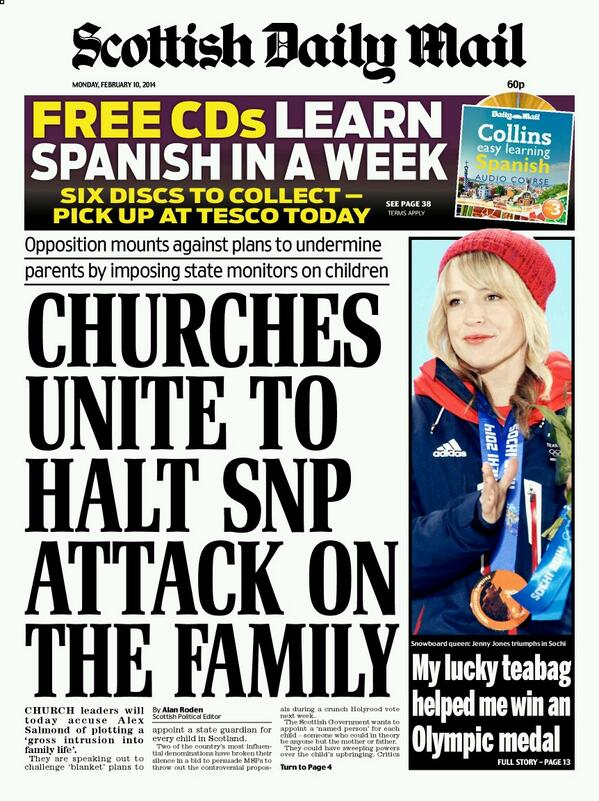 Plan to appoint guardians for children branded a snoopers charter
The Herald: Agenda article by Children's Minister Aileen Campbel
Aileen Campbell defends child guardian plans from critics
A worthy policy has caught out ministers
Snoopers charter or getting it right for every child?
Guardian laws do not breach human rights, say ministers
Euan McColm: Stop meddling with parents' children
Concerns raised over named person for Scots children plan
State spies already snoop on thousands of families
Two letters in the Herald slating the Named Person and data sharing
'Tools' already in use by practitioners (i.e. every professional a child comes into contact with from pre-birth):
National Risk Framework to Support the Assessment of Children and Young People
Data gathering: damned if we do, damned if we don't An overview by Allan Norman of why GIRFEC data mining and sharing without consent breaches Article 8 of the ECHR and the UK Data Protection Act.
Named Person legal opinion Legal opinion for the Christian Institute by Aidan O'Neill QC.
A number of pro-GIRFEC commenters have consistently claimed that there have been no parental complaints, despite the fact that several serious complaints have been copied to us. Some children have clearly suffered detriment due to the actions of named persons and others with whom sensitive personal data has been shared without parental knowledge or consent.  The cited 'evidence' of success of the scheme in the Highland pilot area is unreliable, having been based on a non representative sample (i.e. children known to be at risk or to have additional support needs) and 'spun' by those who can expect to gain financially from implementation of universal interference in family life.
It is widely expected that the Bill will be subject to legal challenge via Judicial Review. Schoolhouse will be posting an update following the parliamentary debate and vote.